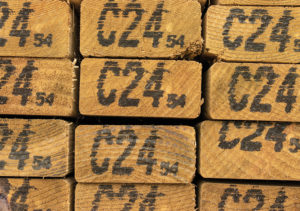 Regularised timber is increasingly being specified which means that the product has a machined finish, giving a regular consistent section size.C16 and C24 are the most common Strength Class used in the UK, and it is normally specified by architects or builders and used both internally and externally.
Our stock of imported timber is mainly C24. C24 graded premium structural timber offers greater strength than C16 timber, making it a more demanding grade that can handle higher loads and wider spans. It is also kiln dried, the procedure where timber moisture levels are dried down to a workable condition.
We stock a wide range of KD/Reg timber in varying lengths from 3meters to 4.8mtr, 47mm thickness up to 225mm width but also can supply longer and bigger sections if required.
For further information please call 01823 325335